NIGHT FOR DAY
Signed and numbered 1-15
In the 'Night for Day' series, Auerbach photographs at night with an 8x10 view camera and prints his images in photogravure. The gravure process gives Auerbach a way to put the touch of the hand in the intaglio wiping of each print. Using the negative of a night image, he creates a result that has an impressionistic quality, somewhere between the setting of night and the dawn of day.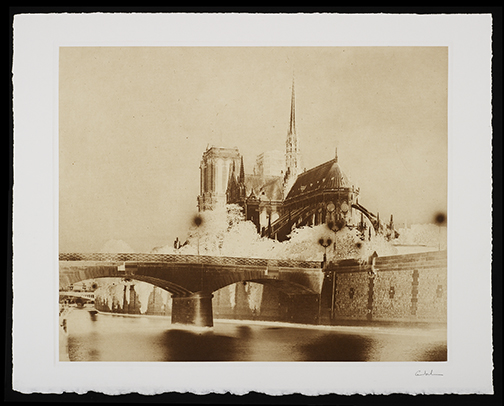 Photogravure:
Intaglio printing process using a photographically etched copper plate that is inked and then run through a high pressure press which transfers the image to receiver sheet of paper with a platemark
Chine Colle Photogravure is unusual for it requires a tissue paper (Kitakata) to be first airbrushed with an archival starch glue on the back side. The tissue paper is then trimmed to the precise size of the printing plate. Moistened before printing, the tissue stretches and then has to be recut to precisely fit the image area. Upon printing, the inked plate is set on the press, the sized tissue is put face down (glue side up) on the inked plate, and then the BFK Linen is placed on the top of the Tissue. Upon running thru the press, the tissue paper is embossed into the BFK watercolor paper in perfect registration. It is considered one of the most beautiful ways to produce a photogravure print (as well as expensive and laborious) with a unique luminosity produced by the tissue overlaying the matt finished BFK paper.

Available in an edition of 15
4 Tissue sets printed on Kitakata @ $5,000
5 Chine Colle sets printed on Kitakata and Rives BFK Linen $5,000
6 Natural proof sets printed on Richard de Bas paper. (Oldest paper mill in the world established in 1326) @ $4,500


The four gravures are titled:

Notre Dame-Night
Notre Dame-Day
Eiffel Tower-Day
Chateau de Chillon-Day